Pleckgate College in Blackburn opens after £25m refurbishment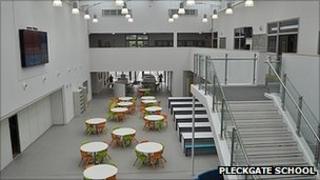 Students at a school in Lancashire have moved into a new £25m complex.
Pleckgate High School, Mathematics and Computing College is the first Building Schools For the Future (BSF) school in Blackburn.
Highlights of the new school include a TV studio and gardens growing banana plants.
Head teacher Robin Campbell said: "To say everybody at the school is incredibly excited about this would be a massive understatement."
Additional students
He continued: "Students and staff have been building up to this moment for a long time. It is so different from the traditional view of a school.
Referring to the bright accent colours used through the school, including lime green and orange chairs, Mr Campbell said: "In terms of the colours, I had my doubts when we went through the design, but I have to say it works."
Students, staff and the local community have all had a hand in design ideas for the school before building started in January 2010 and the site was officially handed over to the school last month.
While construction work was going on, students and staff stayed in the old school building, which will now be demolished and landscaped as part of the new school.
Student numbers will increase from 1,190 to 1,350 and additional students will be arriving from Beardwood Humanities College, which is due to close in 2012.