Red Arrows cancel Morecambe display due to high winds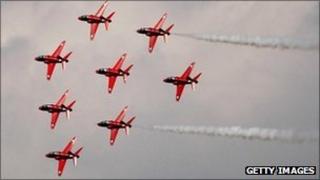 The Red Arrows has had to cancel plans to fly over Morecambe at lunchtime because of high winds.
The display was due to be part of the Morecambe Seaside Festival being held in the resort over the weekend.
The visit had earlier been in doubt after a pilot, Flt Lt Jon Egging, was killed in a crash in August.
But the Red Arrows resumed this season's public displays, weather permitting, following a period of mourning.
Their first public aerobatic display after the crash was at Chatsworth House in Derbyshire on 2 September.
They flew in their famous diamond formation, leaving a space where Flt Lt Egging would have flown.