Adopt a Blackpool beach donkey for winter scheme launched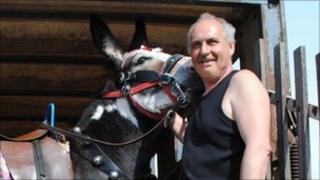 The tradition is to go for donkey rides in summer along Blackpool beach.
But the resort's donkey operators want to make it a winter tradition for people to adopt some of their donkeys.
The owners are working with the Donkey Sanctuary charity to find their animals temporary accommodation so they can have a break in the colder months.
One owner, Sue Edge, said that apart from requiring an acre of spare ground they were low maintenance pets.
"They are quite easy to look after," she said
"There's not a lot that goes wrong with them, they're a hardy little animal."
Another owner, David Nicholls, said donkeys had excellent temperaments both with humans and other animals.
"They will go with any other animals and they are very placid," he said.
Molly Lloyd, the Donkey Sanctuary's North West regional welfare officer, said: "If you can provide an acre of well-fenced grazing with a shelter, fresh water supply and electricity, and have the time and commitment to care for donkeys over the winter months, please get in touch."