Daughter's tribute to Scout Moor crane crash victim Lindsay Easton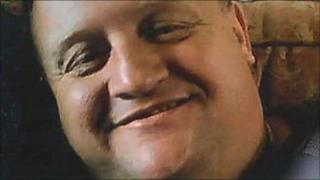 The daughter of a man who died when a crane crashed on a hillside near Ramsbottom has paid tribute to her father.
Lindsay Easton, 49, of Sowerby Bridge, Halifax, died after the mobile crane he was operating left the road in Scout Moor quarry, Edenfield on 15 August.
Lancashire police said an enquiry into Mr Easton's death was ongoing.
His daughter Chelsea, 18, said: "My dad was my best friend and he was always there to listen to me."
The father-of-three was described as an experienced crane driver, and a keen supporter of Leeds United and Leeds Rhinos.
Chelsea added: "He had a great sense of humour and that is how his family and friends will remember him.
"My dad was so proud and excited at the prospect of me going to university and I know he will be looking down on me, and I want to do him proud."
Mr Easton's funeral took place at York Crematorium on 1 September.