Proposals to cut size of Lancaster market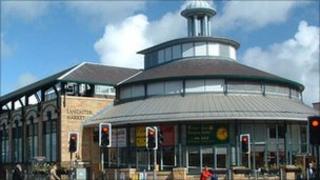 Plans to move stalls at Lancaster Market on to a single floor are to being considered by councillors.
Lancaster City Council wants to raise cash by renting out the upper floor of the Common Garden Street building.
The market was saved from closure in April 2010 but now has just 24 stalls.
Peter Corke, chairman of the Lancaster Market Tenants' Association, said: "It does have a future if it is on one level because it would be full again."
While traders are behind the proposal, they were shocked at the £270,000 estimated cost of the move.
Mr Corke said: "None of the traders could believe that it would cost so much. Those are the council figures , we know we could do it for much less than that."
Councillors have pledged to re-assess the cost of the project during the discussions.