Dead Preston baby Ollie McBride 'suffocated'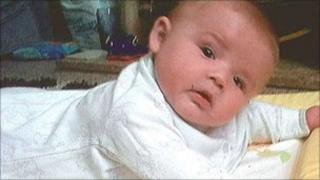 A six-month-old boy, who was found with his dead father in Lancashire, died of suffocation, a post-mortem examination has revealed.
Ollie McBride was found in a "very poorly condition" at a house in Preston and died later in hospital.
His taxi driver father Paul McBride, 39, was found hanged at the address. A post-mortem examination confirmed death by hanging.
Police have opened a murder inquiry but are not looking for anyone else.
Ollie's mother, Michaela Swain, wrote: "No words I could ever write could express how much I love my beautiful baby boy Ollie."
She added: "Goodnight sweetheart, sweet dreams. Mummy loves you. Moo moo x."
Detectives said the infant had "no obvious signs of injury".
'Domestic history'
It is believed Mr McBride and his ex-partner, aged in her mid-30s, had been living together in the Ribbleton area of Preston until recently.
Mr McBride's mother, Denise Betts, who was on holiday in France when Ollie and Mr McBride were found at her home in Marl Hill Crescent Ribbleton, is on her way home.
The baby's mother raised the alarm when Mr McBride, a hackney cab driver, failed to return Ollie to her home as agreed.
They were found by a female family member at the semi-detached house just after 18:00 BST on Wednesday.
Det Sup Neil Esseen of Lancashire Police said: "There is a little bit of domestic history between the parents with some arguments.
"We are trying to find out what bearing that had on yesterday.
"Whether it is a revenge attack is too early to say, that would be speculation. We will be looking at all sorts of theories.
"The mother is obviously very distraught and she is being comforted by trained specialist officers.
"It is vitally important that we are able to tell the mother what has happened to her baby."
Neighbours described Mr McBride, nicknamed "Bluto", as "jolly" and "jokey".
One was almost in tears as she said: "It's shocking, a terrible thing.
"I knew Paul. He was a happy, jolly type. He was always jokey and loved football.
"He had moved away, so we didn't see much of him any more."