£1m cash-for-crash conmen from Burnley jailed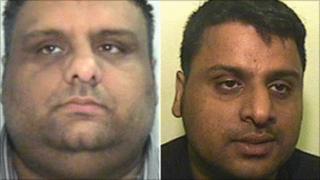 Two brothers who made nearly £1m in a "production line" of bogus crash insurance claims have been jailed.
Rezwan Javed, 34, and older brother Rehan, 36, from Burnley, were jailed for six and five years respectively at Manchester Crown Court.
The pair were were found guilty last August of conspiracy to defraud and possessing an article for use in fraud.
Judge Bernard Lever said the pair had committed fraud on an "industrial scale".
Minshull Street Crown Court heard the pair made £995,915 from defrauding insurers after bogus bumps on the road.
The men, both from Dovedale Close, would get associates to drive around and stop at roundabouts.
While the car behind them was looking right for traffic, the Javeds' drivers in front would slam on their brakes, causing a shunt.
They made bogus claims for repairs, write-offs and storage costs, also claiming there were three people in the car hit from behind.
Each bogus claim netted around £3,000.
Both men were given six months to pay £156,000 under the Proceeds of Crime Act.
If they fail, there will be a two-year, four-month prison sentence on top of the sentence passed.
'Victims' trauma'
Judge Lever told the men: "What you developed was nothing short of a production line of fraud on an industrial scale.
"This is not a victimless crime either in financial or human terms."
He added: "Some of the targeted occupants were elderly and children.
"Many lost their no-claims bonus and had to pay greatly enhanced premiums.
"Some suffered trauma and nervous shock."
The Javed brothers ran North West Claims Centre Ltd, a Burnley company which managed insurance claims.
Their company took a cut of solicitors' referral fees, courtesy car hire and the cost of storage and recovery of cars involved in the collisions, which was not needed on many occasions.