First pink-footed geese arrive at Martin Mere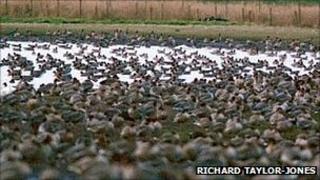 The first pink-footed geese of the year have landed at a Lancashire wetlands to make their annual stop in the region.
About 500 geese, which spend summer around the Arctic Circle, have arrived at Martin Mere, Burscough, as part of their migration.
Mere manager Andy Woolridge said the number of birds roosting in Lancashire during Autumn had increased recently.
He said the North West now received about 100,000 "pink-feet, 25% of the Icelandic population".
The birds, which spend about a month in the Lancashire wetlands, travel from Iceland and Greenland to the south and east of the UK.
Last year, about 40,000 of the birds spent a month roosting at the wetlands reserve. Mr Woolridge expects even more to arrive this time, as the number arriving in the area has jumped in the last few decades.
"I have seen many changes in the last 30 years, but none as prominent as the massive increase in the number of geese travelling through Lancashire," he said.
"It is amazing to see the geese fly in during the afternoon to roost on the mere."