Helen Clitheroe starts Preston Guild scrolls relay race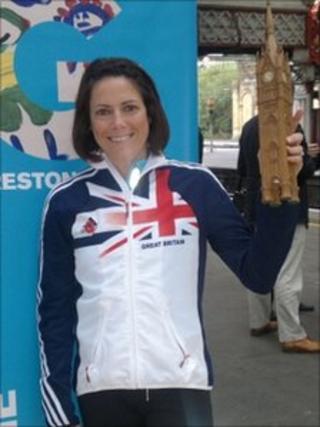 Athlete Helen Clitheroe has started the round-the-world relay for the Preston Guild celebrations.
Clitheroe carried the friendship scrolls on the first leg of the Olympic torch style journey from the Guild Hall to the railway station.
The scrolls are on route to London where Lord Coe will be the first to sign them before they go round the world.
The scrolls are signed by former residents of Preston.
The tradition was introduced to the festival in 1952.
Double celebrations
It is designed to make former Prestonians who have emigrated feel part of the Guild celebrations, which date back to 1179.
The scrolls will be transported in models of the town hall's clock tower, which burned down in 1947, by volunteers from International Rotary and staff at the University of Lancashire.
They will be signed by former Prestonians all over the world before returning on 1 September 2012 at Preston's Harris Museum.
Clitheroe, who is hoping to compete in her third games at the London Olympics 2012, said she was delighted to be part of Preston Guild.
"Hopefully I can go off to the Olympics and celebrate in the September at the Preston Guild celebrations."
The Preston Guild festival is held every 20 years. In 2012 it will be 833 years since Guild Merchant - or market town status - was awarded to Preston.
The 2012 event takes place from 31 August until 9 September and it will be the first one since Preston was awarded city status in 2002.