Blackburn potholes to be repaired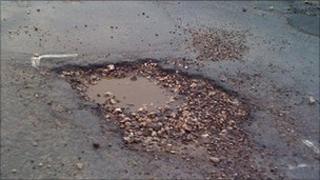 A Lancashire town made famous by the Beatles for its potholes has been given nearly half a million pounds to repair them.
The Department of Transport has allocated £465,000 to Blackburn and Darwen Council after the past two harsh winters took their toll on its roads.
The cash is in addition to the money already in the budget for road repairs.
John Lennon wrote the Beatles lyric from A Day in the Life about "4,000 holes in Blackburn, Lancashire".
The track on the Sgt Pepper album was reportedly taken from a news article in a local paper that he had been reading.
The council said the money will pay for resurfacing 12 roads across Blackburn and Darwen.
Those streets are Anyon Street, Dewhurst Street, Oak Grove and Borough Road in Darwen and Stanley Street, Queen Victoria Street, Manxman Road, Wensley Road, Lambeth Street, Linden Lea, Morecambe Road and Chadwick Street in Blackburn.
All the schemes will be completed by March 2012, it added.
Councillor Dave Harling, executive member for Regeneration on Blackburn and Darwen Council, said: "The last two unprecedented winters have left many of our roads in a terrible condition.
"Residents have told us that they want us to tackle the state of our roads and we need to do something before they get worse and eventually cost us even more to repair them."