BAE job cuts 'could lead to skills exodus' in Lancashire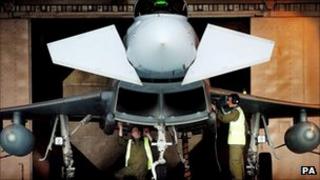 The knock-on effects of BAE Systems job losses are "devastating" on the wider community and could lead to a "skill exodus", says a Fylde business leader.
Steve Pye is chairman of Fylde's Federation of Small Businesses which represents more than 1,000 members.
He believed about a third of members would be "indirectly hit" by more than 1,400 job cuts at BAE in Warton and Samlesbury.
However, a professor who studied BAE's contribution to the local economy for the firm, said the impact was limited.
Mr Pye said contractors, suppliers and surrounding businesses were "the hidden numbers" who would suffer from the redundancies.
Skills 'vacuum'
"There will be far less spend in the community; sandwich shops, pubs, restaurants, petrol stations, etc will all be affected."
And he warned the county would lose the expertise and brainpower of those BAE staff made redundant.
"What will happen is a vacuum of highly-skilled people within Lancashire will all move abroad or to the south east," added Mr Pye.
Preston City Council (PCC) said it had "real concerns" about losing such skilled people from the city's workforce.
The leader of PCC, Peter Rankin, said: "The authority is working with Lancashire County Council, Job Centre Plus and other partners to try and ensure that these highly-skilled people can secure future employment."
Likewise, Fylde Borough Council said it was working with Lancashire Enterprise Partnership "to generate and host new jobs in the future" for those who lose their jobs.
'Lion's share'
Dennis Mendoros is managing director of Euravia Engineering at Kelbrook and a member of the Lancashire Consortium of Aerospace which represents BAE suppliers.
He said the impact on suppliers would be "immense".
He said his company expected to "lose the lion's share" of the work they got from BAE.
Farm shop and restaurant, Huntley's of Samlesbury, said the redundancies at the nearby plant would be "potentially devastating".
Restaurant manager Matthew Gilkes said: "They are very good customers and without the BAE rush we could struggle."
The lunchtime custom from the Warton site was also "vital part" of the Ship Inn's business in Freckleton.
Manager Julie Marsden said: "The job losses are a big blow to us."
However, the effects on Lancashire's economy would be "relatively small", according Professor Mark Hepworth, from the School of Geography at the University of London.
Prof Hepworh, who published a report for BAE in April on its contribution to the local economy, said: "It is a blow but there is still a big presence of manufacturing in Lancashire. The induced [indirect] effects of these job losses are relatively small; for every one job lost, 1.3 is lost in the wider community."
'Highly productive'
He said Lancashire must utilise the workforce's skills, which he described as "gold dust", in new industries.
The professor said: "With the orders down for the Typhoon and governments cutting back on defence budgets it should be a wake-up call to convert the defence industry type work into civilian industries."
This was echoed by Mike Damms, the head of the Chamber of Commerce in east Lancashire, where many of BAE's suppliers are based.
He said: "It is bad news but it is not the death of manufacturing in Lancashire, it is still highly productive, and a by-product is that very highly desirable skill set will be putting their energy into the local economy."
Blackpool and The Fylde College delivers specialist training courses in partnership with BAE.
The college's head of engineering and computing, Simon Hughes, said engineering still offered numerous opportunities for students particularly in new and emerging eco-technologies.
He said the shale gas extraction organisation, Cuadrilla Resources, which has been test drilling for gas on the Fylde coast, could offer "exciting economic opportunities" for engineers.
Mr Hughes added: "Engineering is one of the best industries for making it to the top and the north west remains a key player for engineering and manufacturing."