Accrington water burst affects schools and homes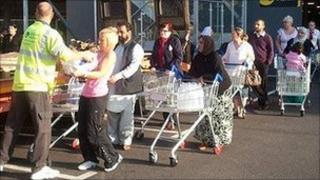 Schools and homes in part of Lancashire are still without water after a mains burst on Tuesday.
United Utilities (UU) has had 100 calls from households complaining of disruption to supplies in Accrington as engineers work to ease the problem.
Eight schools in Accrington and Oswaldtwistle have also been shut because of the burst.
Tankers containing water are being placed at several locations to allow residents to collect supplies.
UU said a disused water main had been successfully recommissioned on Wednesday and brought back into service as a temporary measure to feed water into the area while repairs continued on the burst main.
Sue Cook, from the Manchester Road area of Accrington, has been without water for 24 hours.
She said: "The whole road is affected, as are most of the streets round here.
"On our little lane we have quite a few elderly people, and we've all rallied round to make sure they've got water."
Scott Beard, United Utilities water network manager, said: "We have been doing everything possible to get supplies back on for our customers and we know how frustrating it has been for them."
Bottled water is being given to residents at the Tesco store on Eagle Street, Accrington, and large water containers have been placed on Booth Street, Fountain Place, Rawson Avenue and Charter Street in Accrington.