Threatened bin collections in Rossendale saved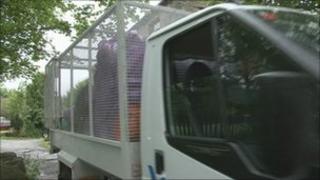 Plans to withdraw doorstep bin collections from rural households in a Lancashire town have been abandoned after councillors voted against them.
People in Rossendale opposed the proposals, which originally affected 670 households, during a five-month public consultation process.
In August, the council dropped its plans to cancel collections for 300 homes after intense local opposition.
The remaining 370 will now have their collections continued.
The proposals, which would have saved more than £50,000 a year, were put forward as part of a package of measures to help the council meet government cuts of £2.6m.
'Weren't happy'
The affected households were all located along narrow country lanes, which could not be reached by conventional full-sized refuse collection vehicles.
The council uses two narrow specialist vehicles to make the collections, which would have been sold off.
The council had planned to introduce large bin bags for car boots to help residents transport their rubbish to the collection points.
Labour councillor Christine Lamb, portfolio holder for the environment, said: "Since taking control of the council in May, we decided that it was really important for us to listen to the public on this important issue.
"We have carried out a huge amount of consultation and, although some residents told us that they understood the need for the cuts and would work with the changes, more people told us that they weren't happy with the changes.
"We will still be introducing a recycling collection service because people told us they wanted that, but we will now be reinstating the doorstep collections for these properties.
"The public have told us that they wanted more consultation prior to the decision that was made back in February, and we have responded to that feedback."