Actor Greg Wise visits Lancaster University Ruskin role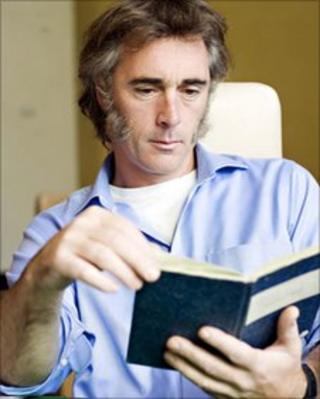 The film actor Greg Wise has visited Lancaster University in preparation for his role as the Victorian artist and writer, John Ruskin.
He looked through drawings and papers housed in the Ruskin Library, the largest single collection of material about Ruskin in the world.
Mr Wise plays Ruskin in the film Effie, which also stars Dakota Fanning, Derek Jacobi and Julie Walters.
He said taking on any new role was "always a challenge".
He continued: "It is very kind to let a scruffy actor touch these things but it has helped immensely.
"Seeing Ruskin's own work has enabled me to see what he did, the style and phrasing and drawing. I feel I understand him better now.
"I'm already growing the Victorian sideburns as part of the role and I've got used to them now.
"I'm really looking forward to starting filming in a few weeks because this has been a long time in development and we're all ready to go."
Loveless marriage
The library is also supplying images of books and drawings to be recreated for use in the film, which centres on Ruskin's six-year marriage to Effie Gray, played by Fanning.
After the marriage, Effie fell in love with Ruskin's protege, the Pre-Raphaelite painter John Everett Millais.
Derek Jacobi and Julie Walters play Ruskin's parents while the screenplay is by Emma Thompson who also plays Lady Eastlake, the author, art critic and art historian.
Edward Fox will play her husband Sir Charles Eastlake.
Professor Stephen Wildman, director of the library, said: "It shows that Ruskin is still of great interest today, and this film, following two recent biographies of Effie, will renew the attention his extraordinary life and work deserve.
"Greg and Emma are doing their best to make the settings as accurate as is practical, and the great range of material we have helps to make that possible."
The film will be shot in Scotland, London and Venice and is due to be premiered at the 2012 Venice Film Festival.