Robert Lund to face fresh trial over wife's death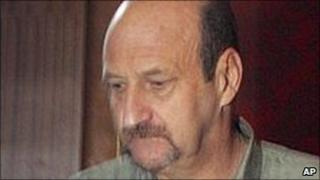 A British man jailed for killing his wife at their French home is to face a second retrial.
Robert Lund, 59, from Blackburn, was found guilty of manslaughter and jailed for 12 years in 2007, before being found guilty again at a 2009 retrial.
Lund's lawyer Apollinaire Legros-Gimbert said he "wanted another trial because he believes he is innocent".
Evelyn Lund's decomposed body was found two years after she went missing from their farmhouse near Albi in 1999.
A massive search was launched around the remote village of Rayssac in south west France, but there was no sign of her until late 2001, when her body was found in her car in Lake Bancalie, 15 miles away.
Lund has always maintained his innocence and has claimed that his wife's death was an accident.
He appealed against his original conviction and was retried for the offence in 2009.
He was found guilty and returned to prison to continue serving his sentence.
His new appeal was based on the argument he was not given a last chance in that trial to address the court until two hours after the jury began deliberating.
He has been granted a third trial as a result, which is due to open on 12 December in Tarn-et-Garonne in south-west France.
Mr Legros-Gimbert said the third trial was "a risk, as the court will review the length of his sentence and it could be decreased or stay the same, but it could also be increased".