'Retro-decorating' helps dementia sufferers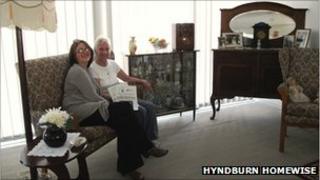 The homes of dementia sufferers are being given a vintage look by a pair of North West not-for-profit organisations to help improve their quality of life.
Accrington's Hyndburn Homewise and Liverpool's Riverside HIA are "retro-decorating" residences by adding period pieces, such as radios and suites.
The additions can allow sufferers to live at home for longer and reduce the need for medication.
Riverside manager Paul Booth said the changes could "have a major impact".
Riverside care worker Anne-Marie Hunter said that the process was very good for helping dementia sufferers who had become withdrawn.
'Reminiscence dialogue'
"We know that the symptoms of dementia can worsen over time, to a point where people can become uncommunicative with loved ones.
"We can source simple items of furnishing or decor which can trigger a memory in the person with dementia and penetrate this state."
She said that the treatment was most effective when case workers had spent time "talking with the client and their family and encouraging a reminiscence dialogue" to ensure the right items were fitted.
Along with adding period objects, the organisations also add "dementia proofing" to the homes, which includes fitting open-fronted drawers and glare-free lighting, re-organising mirrors and putting coloured tape on stairs.
Andy Chaplin, director of Foundations, the national body which oversees home improvement agencies like Homewise and Riverside, said that the idea not only improved the experience of dementia patients, but could also lead to less public money being used to look after them.
"Up to 25% of hospital beds are taken up by people with dementia and reducing the number of beds by 10% could save £1bn," he said.
"Low-cost interventions could help free up these hospital beds and minimise the need for anti-psychotic medication."