Amy Houston's father welcomes immigration plans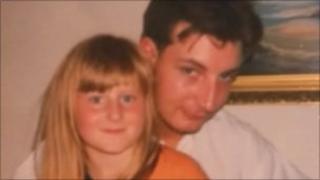 A father whose daughter was left to die in the road by a failed asylum seeker has welcomed the government's plans to stop foreign criminals using the Human Rights Act to stay in the UK.
Home Secretary Theresa May said Article 8 of the act - the right to a family life - was "misconstrued".
She said the law would be changed to allow foreign criminals to be deported.
Paul Houston, whose daughter Amy was hit by a car in Blackburn, said he welcomed any "improvements" to the act.
He said he wanted it to "benefit the innocent and the vulnerable as it was intended to do".
Twelve-year-old Amy was struck by a car being driven by Iraqi Kurd Aso Mohammed Ibrahim in Blackburn in 2003.
She was critically injured and her father later had to switch off her life support machine.
Ibrahim, who did not hold a driving licence, was jailed for four months for driving while disqualified and failing to stop after an accident.
He was due to be deported but won the right to stay in the UK in December 2009 after arguing that he had a right to a family life as he had had two children with a British woman after being released from prison.
'Not absolute right'
Mrs May told the Conservative Party conference in Manchester that the British courts have interpreted the right to family life as an almost absolute right, but the full article said it could be set aside for a number of reasons including public safety and the prevention of disorder and crime.
"The right to a family life is not an absolute right, and it must not be used to drive a coach and horses through our immigration system," she said.
"The meaning of Article 8 should no longer be perverted.
"So I will write it into our immigration rules that when foreign nationals are convicted of a criminal offence or breach our immigration laws: when they should be removed, they will be removed."
Mr Houston, of Darwen in Lancashire, said: "I felt let down by the system. It was there to protect me and it was there to protect my daughter and it didn't do that."
He said he hoped Mrs May's words would be turned into legislation.