Blackpool Promenade's new sea defences win award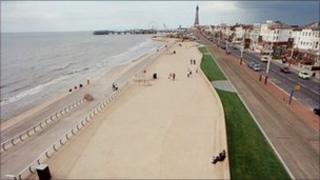 The sea defences built to protect Blackpool from flooding have won an engineering award.
The £76m project replaced 3.2km of the old coastal defences between the North and South Piers, protecting a popular section of the Golden Mile.
The scheme has now won the Brunel Medal from the Institution of Civil Engineers (ICE) for its innovative design and construction techniques.
ICE said the defence walls blended in well with the resort's sands.
The scheme created five headland "features" that generated new spaces along the seafront and was part of Blackpool Council's regeneration masterplan to improve the appeal of the resort and revitalise the local economy.
North West Regional Director Alan Butler said the ambitious project stood out.
"The local authority wanted a scheme that would provide enhanced flood protection to over 600 properties, at the same time doubling as part of its master plan to improve the appeal of the resort and revitalise the local economy," he said.
Dave Lowiss, Managing Director (North West Region) for contractor Birse Coastal, said: "We have been working in partnership with Blackpool Council for eight years on this scheme and to see such a wonderful completed project, especially one recognised by the industry for its technical merit, and one which is fully embraced by the local community, gives us a real sense of achievement."