Girl overcoming speech problem to open Burnley Big Swim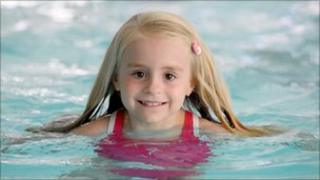 A five-year-old Burnley girl whose mother says was helped to speak by her love of swimming is opening the town's Big Swim 2012.
Olivia Loftus was unable to talk due to a condition called verbal dyspraxiais which was diagnosed at the age of two.
Her mother Kelly Loftus said taking up swimming alongside speech therapy encouraged her daughter to break her silence last year.
And now Olivia is inspiring others to swim as Burnley's swimming ambassador.
'Lifted her spirits'
Olivia said she was "very excited" at being selected to do the opening length of the Padiham leg of Lancashire's Big Swim 2012 event on Saturday.
The Big Swim 2012, which is taking place in 11 areas across the county, is part of a national initiative to encourage others to swim in the run-up to the 2012 Olympics and Paralympic Games.
It was her mother's idea for Olivia to take swimming lessons.
Mrs Loftus explained: "I thought it was something she could get her teeth into.
"She absolutely loved it and excelled at it, it really lifted her spirits.
"You don't need to talk whilst you're in the water so when she was swimming she was on a level footing with other children and there was no pressure on her to speak."
Olivia's first word "immy", which Mrs Loftus said meant mummy, came the following year at the age of four.
She said: "It felt like a miracle when she spoke for the first time because I had been told that she could have the condition for life and not to expect too much.
"Speech therapy has helped but I think her passion for swimming brought her on that bit more. It gave her that bit extra, swimming boosted her confidence and self-esteem."
Billy Gaskall, Olivia's coach at Swimsafe in Burnley, said: "I had no idea until recently she had problems speaking.
"Sport is a great way of building up confidence, though, and it can really help develop skills in other areas of life."
'Very excited'
Mrs Loftus said being able to speak has changed Olivia's personality.
"Olivia was so unhappy and frustrated because she couldn't get any words out. When she started school, she couldn't string a sentence.
"I just can't believe her progress since and she is so much happier now."
Mrs Loftus said her daughter is relishing her role, which was given to her by Burnley Council, as swimming ambassador for her home town.
She added: "She is really looking forward to it and taking it all in her stride."
Each participating local authority is aiming to have 2,012 lengths swum between 13:00 and 16:00 BST on Saturday.