Dead baby found in Kirkham stream was a boy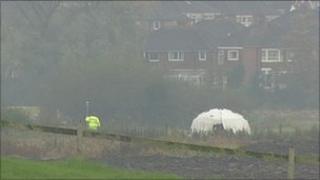 Police investigating the death of a baby found in a stream in Lancashire have said he was a baby boy.
The child, initially thought to be a girl, was found in Kirkham by a dog walker on Saturday.
Lancashire Police have also confirmed the baby was born full-term and not prematurely.
They are appealing for a girl seen pushing a pram close to the area on Monday 26 September or Tuesday 27 September to come forward.
Det Supt Neil Esseen, leading the investigation for Lancashire Police, said: "Today's developments underline the difficulties facing the inquiry but importantly our investigation is continuing to move forward.
"Our primary focus is to trace the mother of this baby boy to ensure she is given the help and support that she needs.
"I cannot emphasise enough that even the smallest pieces of information may prove crucial in finding out exactly what has happened."