Archbishop of York on two-day tour of Blackburn Diocese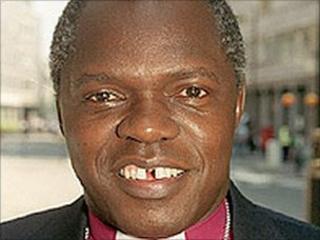 The Archbishop of York is on a two-day tour of the Blackburn Diocese.
Dr John Sentamu has started his visit of churches and projects in Lancaster before spending the second day at Blackburn.
The Vicar of Lancaster, the Reverend Chris Newlands, said people are very excited by his visit.
"He is a larger than life character and people love to listen to him speak and be around when he is leading services," he said.
Nightshelter visit
Dr Sentamu's first stop is Heysham's St Peter's church which is more than 1000 years old.
He follows this by a visit to Lancaster Priory where he will meet people working on a project to install two historic pipe organs.
He will also meet volunteers and homeless people at the Nightshelter at Christ Church before talking to freshers at Lancaster University.
On his second day, the archbishop will preach at the Diocesan Eucharist at Blackburn Cathedral, then stop off at various churches and faith centres in the area as well as BAE Systems at Samlesbury.
He will finish his tour by meeting with council leaders at County Hall in Preston.