Heysham nuclear site pylons and underground cable talks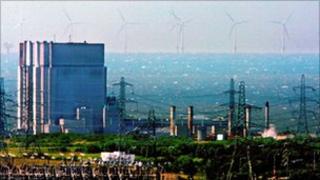 The National Grid has said it will try to minimise the impact on the Lancashire countryside of power cables from a new nuclear power plant.
Connecting Heysham Power Station to the National Grid could mean pylons and cables are run across Morecambe Bay and the Trough of Bowland.
Campaigners are calling for any new power lines to be placed underground.
Heysham, on the Lancashire coast, has been chosen as the site for one of the UK's new generation nuclear reactors.
The site currently has two advanced gas-cooled reactors.
The new reactor is planned to meet the gap in supply which will be caused by the closure of older nuclear plants and of some coal fired power stations.
New pylon design
The National Grid is consulting with environmental groups and local authorities over the route for the new cables.
Jeanette Unsworth from The National Grid said: "We haven't made any decisions on routes at this stage.
"When we do decide on a route we'll then decide on the technology we use.
"We can use offshore cables, underground cables and we've worked with the government on a pylon design competition, so there are new pylon designs being introduced.
"At this stage we've not ruled in or ruled out any technologies."
Richard Jennison from the Campaign to Protect Rural England said: "Anywhere where the pylons are visible we would try and persuade the route to be slightly different so they're not so visible.
"We'd welcome the options of putting the lines underground or under the sea as obviously that wouldn't affect our lovely Lancashire countryside."