Archbishop of York calls for action over BAE in Lancashire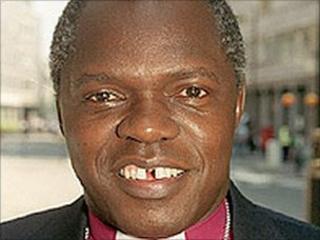 The Archbishop of York has urged the government to buy more planes from BAE Systems in Lancashire.
Dr John Sentamu made the comments after a visit to the company's Samlesbury site, where more than 500 jobs will go.
He said it was vital that the government bought more Typhoon fighter planes for the Royal Air Force to encourage more orders.
He said: "The real shop window is the kind of aircraft the British air force uses."
Dr Sentamu added: "If the British government does not actually purchase for the Royal Air Force, more crafts from that particular company, the chance is that other nations may not, because they will say, the Royal Air Force is now in the world known as the best air force.
"I mean the Harrier jump jet sold a lot, because it was seen as a state-of -the-art for the air force. The same was for the Nimrod and the Tornado."
Talking to freshers
He said: "If Britain doesn't really give its own air force the same kind of planes, the chances of selling are not high."
BAE announced last month it needed to shed almost 3,000 jobs to stay competitive.
In Lancashire, 565 jobs will be shed from 3,970 at Samlesbury, and 843 posts will go from 6,537 at Warton.
The Brough plant in East Yorkshire will lose 900 jobs from its 1,300-strong workforce.
Dr Sentamu carried out a two-day tour of the Blackburn Diocese last week.
During the trip he met volunteers and homeless people at the Nightshelter at Christ Church before talking to freshers at Lancaster University.
He visited BAE Systems on Friday.