Archbishop of York's tour of Blackburn Diocese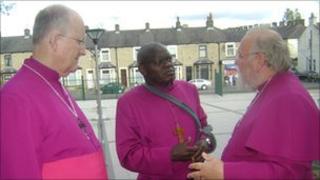 The Archbishop of York told Lancashire faith leaders inter-faith progress will only be made when they accept people converting from one faith to another.
He told the Burnley and Pendle Faith Centre that "it is better for someone to live in an environment based on God than to have no faith in their life".
Many faiths do not accept spiritual movement is God's will.
For instance, many Roman Catholics believe in the premise "once a Catholic always a Catholic".
Many Muslims take a similar view about their faith.
'Fully accepted'
Archbishop Sentamu was speaking during a two day visit to Lancashire where he told faith leaders that "we have to go away from the areas of politeness where we cannot raise difficult and awkward questions".
Salim Mulla, Chair of the Lancashire Council of Mosques, said this is already happening. "I think there are quite a few examples of members of the Muslim community who have changed their faith.
"It's a decision that each individual has made and you have to accept that."
Mr Mulla said there is still a long to go before defections from the Muslim faith are fully accepted in the Islamic community.
He said: "There are many examples of these conversions but it is not widely understood."
Dr Sentamu emphasised the inter-faith discussions should be amicable and honest.
He said: "As a Christian I believe the Gospel of Jesus Christ is for every person.
"That doesn't mean that I shouldn't be courteous, welcoming, and hospitable to a Muslim, a Hindu, and a Sikh or to a person of no faith whatsoever.
"Part of my understanding is that God so loved the world and loved the people within it.
"It is my job to love them equally, but that doesn't mean I shouldn't tell them about the gospel as well."
Marvelled at 'vibrancy'
The archbishop was speaking on the final afternoon of a packed two day programme in Lancashire which embraced a visit to an historic church at Heysham.
Down the road in Lancaster he visited a homeless project, saw new technology being used at Lancaster Priory and marvelled at the "vibrancy" of Lancaster University's Freshers' fair.
There were two visits to Blackburn Cathedral for a Eucharist and to be the special guest at a "praise party" celebrating the 200th anniversary of the National Society.
In between, the Bishop also found time to call in at Buckshaw Village and to support the workers at BAE Systems in Salmesbury who are facing over 500 job losses.
The Bishop of Blackburn, the Right Reverend Nicholas Reade, accompanied the archbishop throughout and described the visit as "two very good days for the diocese".
Joe Wilson presents the faith programme on BBC Radio Lancashire from 06:00 each Sunday.