Twin swap parents jailed for cruelty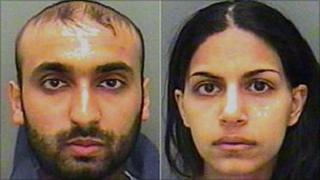 A couple said to have swapped the identity of their dead baby to her twin sister in a bid to cover up injuries they inflicted have been jailed.
Mohammed and Nafisa Karolia, of Meadow Close, Blackburn, denied abusing the seven-month-old, who died in June 2009.
She was taken to hospital after they reported she had breathing problems and was pronounced dead shortly afterwards.
Mr Karolia, 29, and his wife, 22, were sentenced to five years for child cruelty at Preston Crown Court.
The court was told the couple made a deliberate attempt to hide the ailing twin from the outside world in the weeks leading up to her death.
The twin sisters were referred to in court as Twin M and Twin A with the jury told that, for some reason, their parents rejected and abused Twin M who was the bigger of the two.
The court heard the couple tricked a number of visiting health professionals into thinking they were seeing Twin M by showing them her sister.
Prosecutor Joe Boyd said Twin M had suffered numerous injuries, including fractures to the ribs, legs and arms and skull damage affecting the brain and central nervous system.
The broken bones were said to have taken place between 24 hours and six weeks before her death, however, the post-mortem examination found she died of bronchopneumonia.
Mr Justice Irwin said: "The surviving twin has never suffered any injury or neglect and she appeared to have been very well cared for.
"What emerges from the evidence is repeated cruelty to one child."
Among the girl's injuries there was also damage to her nose which suggested it had been pinched by a clasp or clip.
The judge said those injuries were particularly "unpleasant" and "upsetting" and would have been "extremely painful".
'Conceal injuries'
Mr Boyd said the Crown did not aim to prove that any maltreatment by the parents caused the baby's death, but said they had never provided a plausible explanation for the injuries.
Explaining the alleged twin swap during the trial, he said: "The living twin's progress is consistent with that of Girl A, while the dead twin's progress corresponds to Girl M.
"Growth charts for both twins make it clear that the parents have at some stage swapped the babies.
"They have very probably done so to seek to conceal the mounting injuries being suffered by the child who died - always the bigger twin but, for some reason, rejected and abused by them."
Det Insp Pete Broome, from Lancashire Police, said it was "up there with the very worst" case he had dealt with.
"I don't think any period of imprisonment would adequately sum up the gravity of this case," he said.
"They had come up with an elaborate plan. Quite why they did what they did only those two will ever know."