Jane Clough murder: Bill amendment proposed over bail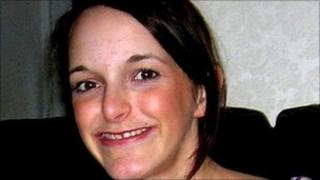 The family of murder victim Jane Clough are hoping Parliament will agree changes to a bill, allowing prosecutors to challenge judges' bail decisions.
Ms Clough, 26, from Lancashire, was stabbed to death by her ex-partner Jonathan Vass in July 2010. He was on bail accused of raping her.
Ms Clough's family have campaigned for a change in the law since the murder.
MP Helen Goodman is proposing an amendment to the Legal Aid, Sentencing and Punishment of Offenders Bill.
The government-sponsored bill is at the committee stage in the House of Commons.
If the proposed amendment is accepted, the bill will still have to go through further readings in the Commons and the House of Lords, and receive Royal Assent, before becoming law.
Ms Clough's parents, John and Penny, have travelled from their Nelson home to hear Ms Goodman, table the amendment.
Ms Goodman is Labour MP for Bishop Auckland and a shadow justice minister.
Her amendment would allow the Crown Prosecution Service (CPS) to appeal against a judge's decision to grant a defendant bail.
'Still with us'
"The defendant has the right to appeal if bail is refused but the CPS cannot appeal if bail is granted," Mr Clough said.
"It is such a small change to the law but it is giving the prosecution the same right as the defendant.
"I firmly believe if they had the right to appeal against bail decisions that we wouldn't be doing this campaign now and that Jane would still be with us and Vass would be doing time as a rapist."
The Cloughs' MP, Andrew Stephenson, Conservative member for Pendle, has tabled a private member's bill calling for the prosecution to have a right to appeal if a judge bails an offender.
However, the amendment - if successful - has a greater chance of becoming law as it part of a government bill, said Mr Clough.
Ms Clough was stabbed 71 times by Vass, 30, outside Blackpool Victoria Hospital where she worked as a nurse.
Vass, of Conway Drive, Preston, pleaded guilty to murder and was jailed for life with a minimum term of 30 years last October. The rape charges were ordered to lie on file.