Knocked out footballer Tom Bender thanks fans for support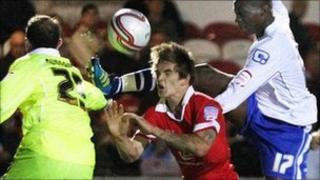 An Accrington Stanley footballer who was knocked out in a collision with two other players said he has been overwhelmed by messages of support.
Tom Bender, 18, whose injury last week led to the abandonment of a cup tie between Stanley and Tranmere Rovers, said the support had been "amazing".
The defender, who was treated for 30 minutes with oxygen and put on a drip, was diagnosed with severe concussion.
He has been ordered to rest until a specialist gives him the all clear.
Lost memories
Mr Bender said: "I have been amazed at the messages wishing me a speedy recovery.
"I never thought this would get this much media attention."
The player, who was injured in the 39th minute after colliding with Accrington goalkeeper Ian Dunbavin and Tranmere's Lucas Akins in a Johnstone Paints tie, said he has no memory of the incident.
"The last thing I can remember is five or six days before the incident," he said.
"I'm told when I came round two hours later I was talking and laughing but I don't remember that, the first thing I remember was waking up at four or five in the morning when I changed wards."
Mr Bender said he also forgot that the day after the match was his girlfriend's birthday.
"I didn't have a clue to be honest," he said.
The player, who is on loan from Colchester, said he was hoping that a specialist would give him a time frame soon to resume training.
He added: "It's not like a normal injury, the doctors have just told me to rest."