Cameron tribute to servicemen Jonathan McKinlay and David Fairbrother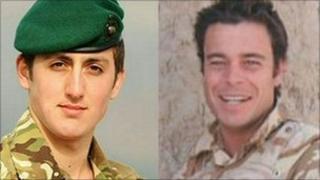 The Prime Minister has paid tribute to two servicemen who were killed within five days of each other in Afghanistan.
L/Cpl Jonathan McKinlay, 33, from Darlington, County Durham, was killed on 14 September.
Royal Marine David Fairbrother, 24, from Blackburn, Lancashire, was shot while out on patrol on 19 September.
David Cameron remembered the "committed and courageous serviceman" at the beginning of Prime Minister's Question Time on Wednesday.
Both men were killed by small arms fire in separate incidents while on foot patrols in the Nahr-e Saraj district in support of Afghan units.
Marine Fairbrother, of Plymouth-based 42 Commando, was killed when his patrol was ambushed in Helmand Province.
L/Cpl Jonathan McKinlay, of 1st Battalion The Rifles, based in Gloucestershire, was killed while on patrol with his team and members of the Afghan Uniform Police (AUP).
Mr Cameron said: "I'm sure the whole house will wish to join me in paying tribute to Lance Cpl Jonathan McKinlay, from 1st Battalion The Rifles, and Marine David Fairbrother from Kilo Company, 42 Commando, Royal Marines.
"They were both extremely committed and courageous servicemen who have given their lives in the service of our country.
"Our thoughts and deepest sympathies should be with their families, their friends, and their colleagues."