Sophie Lancaster's killer Ryan Herbert used Facebook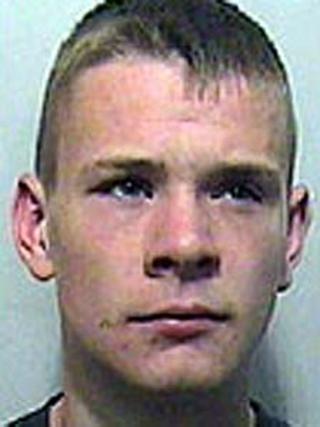 One of the killers of a woman murdered because she was dressed as a Goth has been caught updating Facebook in jail.
Ryan Herbert, who murdered Sophie Lancaster in a Lancashire park in 2007, uploaded pictures of himself to the network with a mobile phone.
Ms Lancaster's mother, Sylvia, has spoken of her anger and said: "It's not good enough. He shouldn't be using a phone or posting on Facebook."
The Prison Service confirmed inmates are "barred" from using social media.
Mrs Lancaster said Herbert, from Bacup, who is serving at least 15 years for Ms Lancaster's murder, "needs punishing".
The page in question was removed on Tuesday.
'Dealt with appropriately'
A Prison Service spokesman said: "Prisoners are barred from updating their Facebook accounts while serving their sentence, or asking others to do so from outside prison. If they do, their accounts will be terminated.
"If a prisoner is found in illicit possession of a mobile phone or other contraband they will be dealt with appropriately by the prison."
Herbert, now 20, was sentenced to life, and originally told he would serve at least 16 years and three months for his part in the killing of 20-year-old Miss Lancaster in Stubbylee Park, Bacup.
She died 13 days after Herbert, then 16, and Brendan Harris, who was 15 at the time, kicked and stamped on her when she tried to protect her boyfriend Robert Maltby.
Mr Maltby was set upon by five youths, including Herbert and Harris, as they walked in the park.
The attackers did not know the couple, but during the trial at Preston Crown Court the prosecution said the motive was simply because Ms Lancaster and Mr Maltby were Goths and were dressed differently.
In 2008, Herbert's sentence was cut by nine months at the Appeal Court which decided the judge at his trial had not taken his guilty plea properly into account.