Lancashire County Council closing offices to save £1m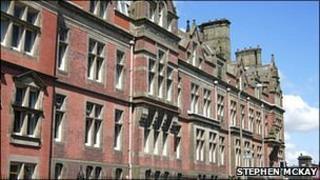 Lancashire County Council is to close offices in Preston as part of a wider plan to save money.
The authority has to save £180m over the next three years, and the move is expected to save £1m in running costs in the next financial year.
More than 500 staff will be relocated to the County Hall complex in Preston or The Globe at Accrington by the end of next year.
Any council-owned buildings which are no longer required will be sold off.
The move involves staff from the environment, children and young people, and adult and community services directorates who are currently based in the East Cliff building, the Joint Divisional Office and Winckley House.
Leader of the county council, Geoff Driver, said: "Reducing the size of the county council through efficiencies will help us to protect front-line services.
"The aim is to bring employees together in fewer office buildings, to work more efficiently and make significant savings.
"The savings we make on the office space we use will help us protect jobs and front-line services in the future."
The changes will begin shortly and it is hoped that they will be completed by 2012.