Kenneth Howson convicted over flat murder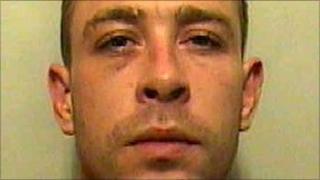 A 26-year-old Burnley man has been found guilty of battering his late mother's ex-partner to death.
Kenneth Howson was convicted in a retrial at Preston Crown Court of James Atkinson's murder in October 2010.
He was convicted in March of murdering Mr Atkinson's friend Neil Gilmore but the jury could not reach a verdict on Mr Atkinson's death.
Howson and Daniel Waddington, 23, who was also convicted of Mr Gilmour's murder, will be sentenced on Friday.
A third man, Lee Howson, who at an earlier hearing admitted perverting the course of justice, will also be sentenced on Friday.
Kenneth Howson, of Williams Road, Burnley, denied murdering Mr Atkinson and Mr Gilmour, who were found with multiple injuries at an address on Waddington Avenue in the town.
Waddington, of Pine Street, Burnley, had denied murdering Mr Gilmour.
Det Supt Neil Hunter, of Lancashire Police's major investigation team, said: "This was a particularly gratuitous attack where each victim was assaulted numerous times with more than one weapon."
He added: "It was clear from an early stage that [Kenneth] Howson held James Atkinson responsible for the death of his mother in September 2010 and was waiting for an opportune moment to seek some revenge.
"Little did anyone know it would manifest itself in such a wicked and violent act."
Mr Hunter also said that the probable motive for Neil Gilmore's death was because he was a witness to the death of his friend James Atkinson.
He added: "Not satisfied with inflicting appalling injuries on the two victims they [Kenneth Howson and Waddington] then defiled their dignity after death by taking pictures of their dead bodies on a mobile phone by way of a trophy."
A joint statement from the victims' families said: "Not owning up to what they did that night has caused our families to relive in detail what happened to James and Neil and how they met their death in what was a cold-blooded double murder."