Kayleigh Searle, 19, detained for baby son's attack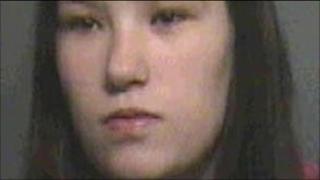 A teenage mother who inflicted "horrific" injuries on her baby son which has left him severely disabled has been detained for eight years.
Kayleigh Searle, 19, of Troutbeck Crescent, Mereside, Blackpool, who pleaded guilty at earlier hearings, was sentenced at Preston Crown Court.
Her three-month-old, Thomas, suffered a fractured skull, bleeding to the brain and a broken collarbone in February.
Her partner was sentenced to three years detention for child cruelty.
Severe spasms
Reece Bourne, 19, of Harbour Lane, Warton, Preston pleaded guilty to the charge and was sent to a young offenders institution for three years.
Michael Maher, prosecuting, said the injuries suffered by the boy were "catastrophic" and "life limiting".
Thomas is in considerable pain suffering from frequent severe spasms, the court heard.
An expert said the impact would have involved "major force" such as throwing him on to a Moses basket from a standing height.
Searle firstly blamed a former boyfriend and then said it was Bourne who had injured the boy.
Judge Anthony Russell QC said it was clear from the medical evidence that in the months that followed the boy's birth he was subjected to violence on a number of occasions.
He said he was so appalled that he had to pause for 15 minutes so that he did not sentence them "in anger".
He told Searle: "It is almost unimaginable that a mother could have inflicted such injuries on her own child, and furthermore quite apparent from all the documentation that you have shown no remorse at all.
"Your conduct throughout the inquiry and the case have shown you to be completely heartless; you appear to lack even the basic humanity."
Addressing Bourne, Judge Russell said: "You knew how badly Kayleigh Searle was treating this baby and you should have protected him from her."
Searle was sentenced to seven years in a young offenders institution, with an additional year for admitting to perverting the course of justice by trying to blame her ex-boyfriend.
Lancashire Police's Det Insp Nina Foley said afterwards: "No prison sentence will adequately reflect the actions of Kayleigh Searle towards her son or help him recover from the massive brain trauma he sustained.
"Her actions were wicked and cruel and she showed no remorse for her actions."