Tornado aircraft marks a million flying hours in Warton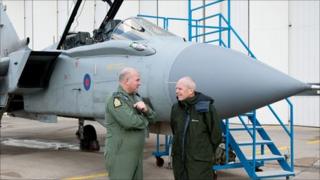 BAE Systems workers in Lancashire have welcomed a Tornado aircraft to Warton to mark one million total flying hours by the planes.
The Tornado GR4 was flown by Wing Cdr Jonny Moreton and Navigator Flt Lt Phil Abbott of 15 Squadron.
It was shown to employees at the same spot where the first Tornado rolled out from the factory over 30 years ago.
All the RAF's Tornados have been completed at Warton and today 131 aircraft are still in service.
'Proud moment'
Service availability director, Martin Parker said it was "a really proud moment".
He said: "We wanted to do this event at Warton to recognise all of the engineers and supporting staff that have worked on the aircraft.
"Outside it looks pretty much the same as it did 30 years ago, but inside it's totally different.
"All of the major avionics and electronic systems, the weapon systems and all of the displays that the air crews use to actually operate the aircraft, have all changed, very much like your computer at home.
"The outside box might look the same, but what's inside, you can upgrade as you choose to bring in the latest technology, and that's what we've done."
On hand to meet the aircraft was former test pilot Eric Bucklow, 74, who was among the first pilots to test fly one.
'Happy days'
He said: "It felt exhilarating. I'd flown Canberras, Jaguar and then the Tornado, and it was the best aeroplane I'd flown, and still is."
The event is even more poignant as the aircraft has just completed 7,000 hours of flight in theatre.
It is currently in operation in Afghanistan and Libya, and is due to stay in service for another decade.
Wing Cdr Jonny Moreton of 15 Squadron said: "The Tornado is an absolutely fantastic aircraft to fly, it's massively smooth and surprisingly quiet.
"It's dynamic at low-level and at medium-level. She's an old girl but she gets there."