Blackburn paperboy gets award for rescue on his round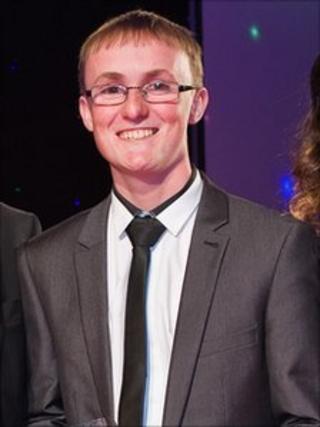 A paperboy from Lancashire who came to the aid of an elderly customer while on his round has won a national award.
Blackburn's Luke Ashurst, 16, used his Royal Air Force cadet first aid training when he heard cries coming from the garage of a customer's house.
He found the owner of the house, who is in her 80s, on the floor. She had slipped on a step and broken her hip.
The teenager made sure the lady was comfortable and called for help before continuing with his round.
Luke said: "From the shape of her hip I knew she had broken or dislocated it."
He did first aid checks on her, phoned for an ambulance then got cushions from her house to make sure she was comfortable.
"I was surprised by how much of my training came back to me," he said.
'Completely unfazed'
Luke, who has been a paperboy for three years, then called the woman's son and kept talking to her so she remained conscious until paramedics arrived.
He then finished the rest of his evening round without mentioning the incident to his employers, Julie and Stephen Worsley, who own SE and J Worsley's newsagents.
They only discovered how Luke had helped the lady when her son contacted them the following day to say thank you.
Luke's father, Dave Ashurst, said: "She was very grateful especially as it was a very cold night and she could have been stuck there all night.
"Luke was completely unfazed by it, though, he even tidied up before completing the rest of his round."
Mr and Mrs Worsley were so impressed they nominated him for the News Deliverer Merit Award which recognises outstanding commitment to news delivery.
Luke went on to win the accolade, along with £250, at the National Federation of Retail Newsagents Awards staged at Park Plaza Riverbank Hotel in London.
Mrs Worsley said: "Had it not been for Luke's actions, who knows what the outcome may have been?"
"He is the most perfect ambassador for a newsagent.
"We are very proud to have him."