Father of Adam Rogers meets up with son's killer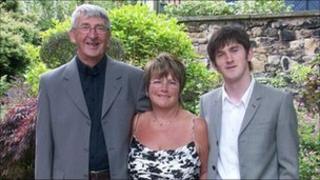 The father of Adam Rogers, who died after being struck by one punch in an attack in Blackburn, said meeting his son's killer had been "worthwhile".
The meeting between David Rogers and William Upton, from Rishton, was done on a confidential basis.
Mr Rogers said: "It was very emotional and upsetting but I achieved what I wanted to achieve from it."
Upton, who was 16 at the time of the attack, was released from custody on Monday.
He has served two years of the four he was ordered to serve for Adam's manslaughter but remains on licence under the guidance of the probation service.
Face-to-face
Adam was on a night out with friends in July 2009 when there was an altercation with another group which resulted in Upton punching Adam.
The 24-year-old later from head injuries.
Since then David Rogers has been involved in promoting restorative justice, where an offender comes face-to-face with their victim.
He has gone to prisons and talked to inmates about Adam's story and Every Action Has Consequences, an anti-violence campaign the family set up after his death.
Mr Rogers said he felt "satisfied" that he had got to meet Upton and said he would continue his work because "that is what Adam would have wanted".
"Positives have come out of it and I said everything I wanted to say.
"I hope William has learnt from it, too, and the consequences and effects of what happened that night."
He added: "I want him to make something of his life."