Cardinal Allen pupils teach IT skills to over 60s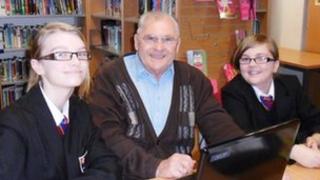 A Lancashire school is helping bridge the digital divide for older people who have never been on the internet.
Pupils at Cardinal Allen High School in Fleetwood have been running free computer sessions at their school in conjunction with Age Concern.
They have helped hundreds of mature people acquire computer skills over the last three years and their work has been recognised with a national award.
They are backing the new BBC campaign Give an Hour to get over 55s online.
Cardinal Allen won the BT Internet Rangers Schools' Award and £5,000 for promoting and increasing inter-generational internet skills among the wider community.
The money has enabled the IT champions to make home visits to people who are unable to make it into the school and sessions in community centres.
School teacher Andrew Harding, who helps run the computer classes, said: "These classes don't just teach older people valuable IT skills, they help break down prejudices between generations and open up the community."
'Great satisfaction'
Mr Harding said pupils, who range from 11-16-years-old, were happy to give up their spare time to teach IT.
"They absolutely love helping to get people online. They get great satisfaction from it," he said.
Peter Connor, BT north west regional manager, praised the work of the group.
He said: "Cardinal Allen High School stood out because it built on an existing activity and the award was used to extend their work out into the community, helping people who cannot travel into school.
"It is fantastic that so many young people are willing to share their knowledge and skills with older people."
Mr Harding said his inter-generational internet rangers welcomed the BBC's campaign.
'Give an Hour' encourages people to donate a 'free' hour when the clocks go back on 30 October to introduce someone to the internet for the first time.
Fiona Bruce is heading the campaign to introduce people to the internet, particularly the over 55s of whom 44% in the UK have never been online.