No mail deliveries for 'dog attack street' in Blackpool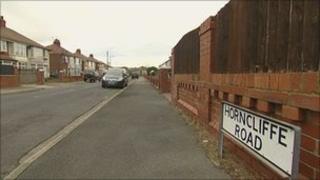 Royal Mail have refused to deliver mail to a street in Blackpool after a dog at one house allegedly bit a postman.
The postal service said one of its employees received "serious bite wounds" during an attack on Horncliffe Road several weeks ago.
Residents now have to collect post from a sorting office, which some have complained takes more than an hour.
Royal Mail said that it would only reinstate deliveries once it had been proven the dog was under control.
In a statement, the service said: "A postman was attacked by a dog and received serious bite wounds.
'Messing about'
"As a last resort Royal Mail suspended deliveries to a number of addresses.
"Royal Mail takes very seriously the safety of its employees, particularly our front-line staff who deliver the mail."
Keith Wilson, who lives on the street, said: "I have to get the bus and go up town [to the sorting office].
"It's an hour-and-a-half journey there and back, messing about, collecting post.
"I think they should take it to our post office only up the road and we can collect it there, or bring their van to the top of the road."
There were more than 5,000 reported attacks on postal workers by dogs in the UK last year.