Trough of Bowland tree cut down by vandals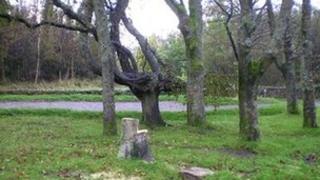 Countryside rangers are asking for help to find vandals who cut down a 120-year-old tree and damaged two others in the Trough of Bowland, Lancashire.
The damage occurred between 13 and 14 October near the ruins of St James' Church at School Lane, close to Stocks Reservoir.
It is believed the avenue of trees was originally planted in 1888.
Steven Highley, woodland project officer for United Utilities which owns the land, said it was "such a waste".
He said: "Sadly, I suspect the wood from the trees was stolen just for firewood.
"We are appealing for any information regarding this incident and would encourage visitors to the area to report any suspicious activities to us or contact the local police."