Gangmasters Licensing Authority to probe cockling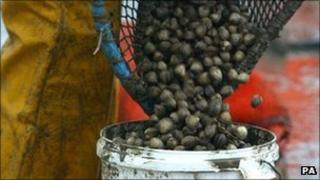 The Gangmasters Licensing Authority is investigating whether gangmasters were involved in an incident in which cocklers had to be rescued.
On Monday, cocklers were rescued from Lancashire's Ribble estuary for the 14th time since its cocklebeds opened at the beginning of September.
Fylde Conservative MP Mark Menzies has said he feared a repeat of the Morecambe Bay tragedy.
Twenty-three Chinese cocklers drowned in the bay in February 2004.
He is due to meet fisheries minister Richard Benyon, of the Department of Environment, Food and Rural Affairs (Defra), to discuss the issue.
Mr Menzies has previously said the cockling was on an "industrial scale" and that it might have to be banned in the area unless greater control could be introduced.
A spokesman for Defra said: "Gangmasters Licensing Authority officers are now investigating whether gangmasters were involved in the recent incident and they will report back early next week."
He said the North Western Inshore Fisheries Conservation Authority (NWIFCA) limited the number of cocklers in the estuary and all permit holders had to be fully trained in health and safety.
The spokesman added: "NWIFCA is also doing a great deal of work with other agencies to address safety issues with small boats taking part in the fishery, and is planning to put out more guidance in relation to safe use of small vessels."
The cockle bed at Foulnaze, near Lytham, attracts about 300 cocklers a day, whose hauls can fetch up to £1,200 a tonne at fish markets.