Preston Central Methodist Church cafe reopens after refit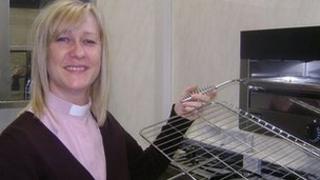 A Methodist-run cafe in Preston, used by over 1,000 people a week, has reopened after a £40,000 refit.
The cafe, in the Central Methodist Church, has been closed for nearly two months whilst a new kitchen and serving area has been created.
The church, on Lune Street, is a meeting point for many city centre shoppers.
It also operates a centre for homeless people providing year-round supported accommodation for 20 adult men.
The Reverend Sue Griffiths, minister at the Central Methodist Church, said: "We run a coffee shop from Monday to Saturday and now have a brand new stainless steel kitchen which is much more hygienic and functional.
"We have changed the counter area to help us serve customers better and generally we have just brightened the place up to make it more modern."
The cafe has not seen many changes over the years. Peter Bonnage, a volunteer from Walton-le-Dale said: "It's been rather antique in appearance but this is a marvellous improvement. I'm very impressed."
'Community place'
Ms Griffiths says it is important that the Methodist church provides this kind of facility in the city centre: "I think the church has always had a heart for social action and serving the community.
"This investment in the city centre will allow us to serve the community more effectively."
Volunteer Valerie Whitehouse from Barton says their regular customers were anxious to see the doors open again: "A lot of people have missed what happens here. It's not just a coffee shop, it's a community place for people to share their problems, share their lives, share their time and I think that's important."
The city's homeless community will also benefit.
Ms Griffiths said: "On a Sunday and Monday night we do a homeless drop-in. Whilst we have been closed we have been meeting down at St. George's Church of England and at our most recent meeting we had a record number of 42 visitors, so the demand is growing.
"People come for a meal, they come and chat. We enjoy being in their company and hopefully they enjoy being in ours. The new facility means we are able to serve them quicker and better."
Joe Wilson presents the faith programme on BBC Radio Lancashire from 06:00 each Sunday.