Liverpool Coastguard in more Ribble estuary cockler rescues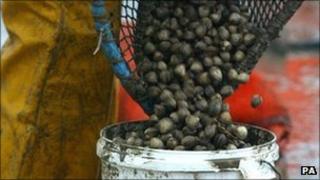 Further rescues of cocklers have been carried out on the Ribble Estuary - the 26th in two months.
Liverpool Coastguard received a call at 04:20 BST that a boat had capsized with three people on-board, with a Welsh fishing boat stopping to rescue them.
Another seven people were rescued after a further call-out was received at 06:30 BST.
There has been a total of 26 incidents since the beds reopened in September prompting repeated coastguard warnings.
"River estuaries are hazardous places," said Paul Parkes, Liverpool Coastguard watch manager.
"If you do not have the right knowledge and the correct equipment please do not venture out on them."
On Wednesday afternoon, five cocklers were helped by Lytham RNLI after their unseaworthy boat's engine failed.
There have been fears among locals of a repeat of the Morecambe Bay tragedy, in February 2004, when 23 Chinese cocklers drowned.
Fylde Conservative MP Mark Menzies has called for cockling in the estuary to be banned unless greater controls are introduced.
Mr Menzies is due to meet fisheries minister Richard Benyon to discuss the issue.