Blackpool memorial service for fallen troops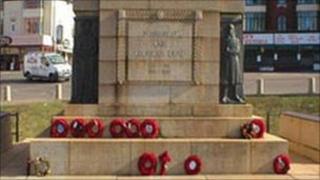 The mother of Blackpool's Lee Thornton, who was killed by a sniper in Iraq, was one of 200 relatives at a military memorial service in the resort earlier.
Families of servicemen and women recently killed in action from across the North West gathered at Blackpool's War Memorial on the Promenade.
After the remembrance service, the families of fallen troops laid wreaths at the Cenotaph.
The service was organised by the Bereaved Families Support Group.
It was part of a weekend of activities organised by the group.
Karen Thornton, whose son was serving with 12 Regiment Royal Artillery when he was shot at the age of 22 in 2006, said the group had been a comfort to her family.
She said: "It has been such a benefit to me and my son Ryan to meet people who totally understand how we feel and know what we're going through."