Halloween restrictions for visitors to Pendle Hill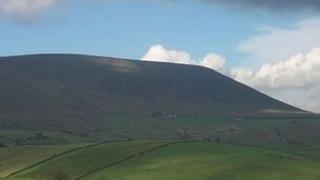 Halloween revellers are being advised not to head for Pendle Hill in Lancashire.
The hill will be closed to fairground rides, catering units and parked cars from 17:00 GMT until 03:00 GMT on Tuesday.
The area is popular because of its links to the Pendle Witch Trials and in recent years police and the council have had to introduce safety measures.
These include a one-way system for traffic from the A59 to Sabden.
All vehicles entering the village will be asked to leave via alternative routes either towards Padiham or Whalley.
Public order offences
There will be no waiting on Clitheroe Road from its junction with Whalley Road, Sabden, over Pendle Hill to the Pendleton turn-off.
Access to the Wellsprings Inn at the Nick o' Pendle will be by ticket only.
Insp Chris Saville, from Lancashire Police, said: "As with previous years, it has been necessary to take these precautions to ensure the public remain safe on Pendle Hill this Halloween."
The restrictions have been implemented in recent years following increasing concerns about the growth of the annual gathering.
Problems have included heavy traffic, public order offences and the use of fireworks.
The area's associations to witchcraft date back to the 17th Century. The witch trials were held in 1612.