Kim Webber and Gill Rowe's new roles at West Lancashire Council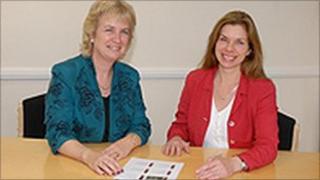 Two directors are starting new joint managing director roles at West Lancashire Council as part of cost-cutting measures.
Former chief executive Bill Taylor took voluntary redundancy on Monday after 14 years in the role and the post has now been scrapped.
His workload will be shared by Kim Webber and Gill Rowe, two senior members of the current management team.
The council said the change will save £165,000 a year.
'Great respect'
Ms Webber, was previously director of transformation. She said: "As joint managing directors we have equal status and equal responsibility and it will be very much a partnership approach.
"At the same time, we are responsible for specific service areas and specific service managers so we won't be doubling up on decisions or stepping on each other's toes."
Mrs Rowe added: "Kim and I have worked together for many years and have complementary management styles and great respect for each other's skills and abilities."
The Leader of the Council, Ian Grant, said: "Like councils all over the country, we have had no choice but to trim back our spending, and when we were looking for savings, we felt it was only right to consider making reductions throughout the organisation, not only at the middle and the lower levels but at the top as well.
"I am delighted that Kim and Gill had already proved, during their four months in post as directors, that they had the skills and capacity to take on these new and challenging roles as joint managing directors."