Stream baby death: Officers appeal on Crimewatch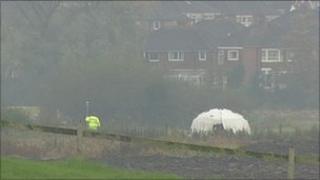 Police investigating the death of a baby boy whose body was discovered in a Lancashire stream are to make an appeal on Crimewatch.
The body was found in Spen Brook, off Carr Lane in Kirkham, on 1 October.
Police believe the boy was less than a month old and had been born full term. They now believe he had been in the water for no more than five days.
Det Supt Neil Esseen said he hoped the appeal would provide the "crucial piece of information" officers needed.
He added: "Hopefully someone, somewhere, maybe even the mother of the baby herself, will see the programme and come forward."
'Very distressed'
Detectives are continuing to appeal for information about items found at the scene close to the body.
They were a Union Flag towel, a green towel with a "Renaissance" label and a fleece which was originally blue and white, but is now badly stained and discoloured.
Mr Esseen added: "I appreciate these are very common items, but it is really important that I hear from anyone who can link all these items together.
"Unfortunately we don't know how or why the baby ended up in the stream.
"We can't rule out that a crime has been committed, but I must stress that our number one priority is to trace the mother of this child as she must be very distressed and may be in need of medical attention.
"We urgently need to know what has happened to her and to make sure that she is OK and I'd like to reassure her we are here to offer her any help or support she may need."