EDL leader suspended sentence for headbutt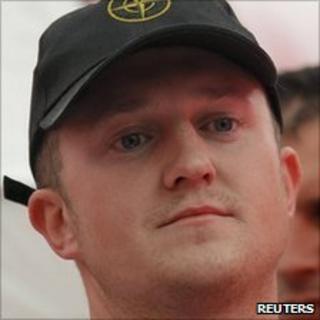 The leader and founder of the English Defence League (EDL) has received a suspended jail sentence for assaulting a fellow-member of the group.
Stephen Lennon, 28, from Luton, headbutted his victim shortly after speaking at a rally of 2,000 followers in Blackburn on 2 April.
Lennon, who denied assault, received a 12-week sentence suspended for a year at Preston Magistrates Court.
A police application for an anti-social behaviour order was rejected.
Lennon, who was convicted at an earlier hearing, also received a 150-hour community order and was ordered to pay £200 costs.
Police 'desperate'
The Crown Prosecution Service and Lancashire Constabulary made a joint application for an Asbo against Lennon which would have effectively barred him from involvement with protests by the group he founded.
However, District Judge Peter Ward refused the application and said he did not believe it would have been submitted but for the defendant's links with the EDL.
The Crown argued that the assault and a number of other relevant previous convictions showed he was a man that "needed to be restrained".
In response, Lennon's legal representatives said an Asbo would be "disproportionate" and that it amounted to the police being "desperate to stop him being involved with the EDL at all costs".
The court was told Lennon had launched a tirade against a man from the North East, who was accused of putting messages on the internet about police informers and "grasses" amongst EDL members.
Trouble broke out between EDL members and fellow supporters from the North East.
Shortly after, Lennon, who was surrounded by his own security guards and EDL stewards, then lunged or stepped forward and head-butted Alan McKee, 33, from Gateshead.
The attack was witnessed by two police officers who stepped in to quell the trouble.