Ribble Estuary cockle beds to be closed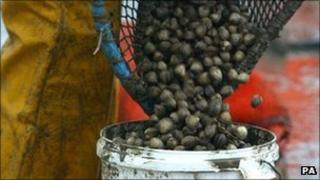 A cockle bed off the Lancashire coast is to be closed after the fisheries and conservation authority passed an emergency by-law.
The bed, in the Ribble Estuary, opened on 1 September. Since then, the air and sea emergency services have been called out more than 20 times.
North Western Inshore Fisheries and Conservation Authority (NWIFCA) will close the bed at 00.01 GMT on Monday.
It said it was the only way to regulate "unsafe activity" in the short term.
In a letter to permit holders, the authority said it was responding to advice from Fylde Council, Lancashire police, the coastguard and other regulatory bodies.
Fisheries Minister Richard Benyon also gave his support for closure on Thursday.
"The problem is that many small craft attempting to access the cockle beds have got into difficulty because they have been unsuitable, ill-equipped and have operated in adverse weather conditions," the letter said.
Council support
"A closure of the Ribble cockle fisheries is the only way to regulate this unsafe activity in the short term."
The authority said it aimed to re-open the fishery as soon as possible, "when improved controls can be implemented".
Dr Stephen Atkins, chief executive of NWIFCA, said he would work with government department Defra and the Marine Management Organisation and consult with permit holders on the best way to improve controls so the bed could be re-opened.
Fylde Council said it supported the closure plan.
But council leader David Eaves added: "We don't want the closure to last for too long because we want to ensure that legitimate and responsible cocklers can get back to earning an honest living.
"We support this closure but urge that an enforceable by-law be brought in within a matter of days. That would allow the orderly and legal return of cocklers in a way that would minimise disruption to residents.
"It is a minority of cocklers who have made this necessary in the circumstances. We are sympathetic to the legitimate cocklers and expect that a more rigorous enforcement regime by IFCA will allow cockling to return in a more responsible fashion."
The authority said it was also closing Wirral cockle beds because stocks had reduced to a permitted level. It will also close from 00.01 on Monday and will be subject to a review.
From the point of closure, it will be criminal offence to fish or attempt to fish for cockles in either bed. Anyone doing so risks a fine of £50,000.
There have been fears among local residents, the police, and coastguard agency of a repeat of the Morecambe Bay disaster. Twenty-three Chinese cockle pickers drowned in the bay in 2004.