Ribble estuary cockle ban makes fishing 'more dangerous'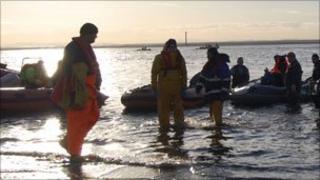 A Lancashire fisherman says the closure of the Ribble estuary cockle beds has made his job more dangerous.
The cockle beds at Foulnaze Bank were closed on 7 November to "protect public safety" after 26 coastguard rescues in the two months since it opened.
The authorities complained inexperienced fishermen were putting themselves and others at risk.
Paul Sumner, who has been fishing for more than three decades, said he had now resorted to fishing for seabass and cod six miles out to sea.
He said: "Now, I have been forced out into the open sea which isn't very safe at all. I was safer on the Ribble estuary."
"I understand why they have done it - to protect inexperienced fisherman - because it is suicidal to go out without boating experience and the right equipment but it has made it far more dangerous for me."
'Punished by opportunists'
Not only has the closure made his job more perilous, it has affected the former lifeboat man's livelihood.
Mr Sumner said: "It's very frustrating. There are only three more weeks left of the bass and cod season.
"Cockling would have given me a steady income and seen me through the winter."
"Genuine fishermen have been punished because of opportunists."
Mr Sumner said the level of cockling at Lytham had reduced when the North Western Inshore Fisheries and Conservation Authority (NWIFCA) enforced its closure with an emergency by-law.
He said: "The numbers had reduced before the beds were closed with the big clamp down on those fishing without permits and the weather. It was just die hards."
Fylde Borough Council said it was sympathetic to the plight of cocklers who adhered to the law.
A spokesman said: "They are many legal cocklers and we think it is a great shame they're losing income. We hope it will return in an orderly fashion once all the legal arrangements are put in place by IFCA."
'Losing their livelihoods'
Conservative Fylde MP Mark Menzies, who supported for the closure in the short term because of the chaos on the cockling beds, has now called for the beds to be reopened.
Mr Menzies said: "Fishermen are in danger of losing their livelihoods if closure takes too long.
"Time is of the essence for fishermen. Once the current season comes to an end, they would normally concentrate on shellfish and capitalise on the Christmas market.
"However, cockle boiling plants who buy the shellfish and cook them, shut in mid December.
The emergency by-law will be reviewed by the NWIFCA at a meeting on 6 December.
It has said it hopes to lift the ban as soon as possible.