Row over tram museum plan in former Fleetwood depot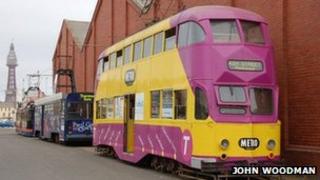 A row has broken out between tram enthusiasts and Wyre Council over a former depot building in Fleetwood.
The Friends of Fleetwood Trams wants to house some of Blackpool's heritage trams in a depot at Copse Road, making it into a visitor attraction.
Members claim it will not be possible if the council goes ahead with plans for a new £1.5m waste centre close by.
The council said the project would be prevented by the amount of land the tram shed would require.
The building, which was built for the opening of the tramway to Fleetwood in 1898, is the only former depot building which still survives intact.
The traditional tram service between Blackpool and Fleetwood has now ended as there is a new light rail service which begins next year.
New jobs
John Woodman, from the Friends of Fleetwood Trams, said if it was unable to develop the depot because of Wyre Council's plans, the building could become redundant.
He said: "We don't have a problem with them building a new waste depot per say, our issue is with the design of the layout which darkens the tram depot.
"The plans say they want to build a 22ft-high shed, the side of which would be only 6ft away."
The leader of Wyre Council, Peter Gibson, said building a waste plant at the site would mean a £1.5m investment, creating new jobs in the town.
He said: "The friends wanted a piece of the council's land on Copse Road for access and parking to the proposed museum.
"We just don't have that land available because it would jeopardise the investment.
"There are other options and we're looking at whether the depot can be changed in some way."
He said he hoped the museum would still be a viable option, but would "have to see some evidence".