UCLan named as Rugby League World Cup training venue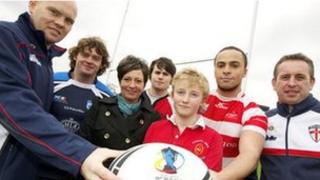 The University of Central Lancashire (UCLan) has been chosen as an official training venue for the 2013 Rugby League World Cup.
It is the only university to be chosen and will provide training facilities for the 14 teams that are taking part in the tournament.
Eighteen different venues will stage matches and six other venues will host teams during the tournament.
Jan Peace, who manages UCLan's sports arena said it was a "fantastic coup".
She said: "We're really looking forward to using the opportunity to develop rugby league both at the university and in Preston.
"The quality of the facilities is second-to-none and we've got associated hotel and conference accommodation, so I think they were just impressed with the whole set-up.
"It makes a perfect training venue."
'Fantastic catalyst'
England rugby league coach Steve McNamara said hosting the World Cup on home soil was "a big advantage" adding "preparation is the key".
Janet Pendlebury, rugby league development manager for Lancashire, said: "More and more schools are now taking part in the leagues and the World Cup will be a fantastic catalyst to project rugby league within this area."
Details of host fixtures and venues for the opening ceremony, the semi-finals and the final will be confirmed early in the new year.
A total of 34 bids, comprising 30 stadiums, 47 team training sites and 87 team base camps, were submitted to the Rugby Football League.
Each of the bidding hosts underwent a detailed inspection from a 2013 team.